Liposuction in Dubai – Best Fat Removal Procedure in Dubai
Overview
Liposuction is a cosmetic procedure in which the stubborn fat of the body is removed to improve the shape of the body and to make your overall appearance more pleasing.
The procedure is effective for body fat on which diet and exercise no longer work. It is a surgical process that removes stubborn fat and remodels the overall appearance to make the body shape more appealing. Liposuction surgery is the quickest and easiest way to get a new body contour. A unique way of converting the stubborn fat into liquid form which drained out of the body through the help of suction tubes.
Liposuction can be used to treat most of the areas for both men and women. Some of the common target areas that can be treated are:
Neck
Cheeks
Chin
Upper arms
Chest area
Abdomen
Waist and flanks
Hips
Buttocks
Thighs
Calves
Ankles
Breast reduction
Liposuction can be performed alone or along with other plastic surgery procedures, such as a facelift, breast reduction, or a tummy tuck. It should be noted that liposuction is not a weight loss surgery, but a body contouring procedure. To undergo this surgery, the candidate's weight can be slightly above the average value but should not be obese.
Why Liposuction?
Regular exercise and healthy eating can help most people achieve a desirable figure or physique. However, for some, losing weight can turn into an unceasing struggle against stubborn pockets of fat that no amount of exercise or diet can eliminate. This is where liposuction, or fat removal surgery, comes in.
While Liposuction is mostly used for cosmetic & aesthetic purposes, it is sometimes done for medical reasons too, to correct the following conditions or situations:
Gynecomastia (excessive or abnormal fat accumulation in male breasts)
Lipomas (benign fatty tumors)
After excessive weight loss surgery
Lymphedema – excess fluid collection in tissues – edema
Lipodystrophy – issues with the metabolism of body fat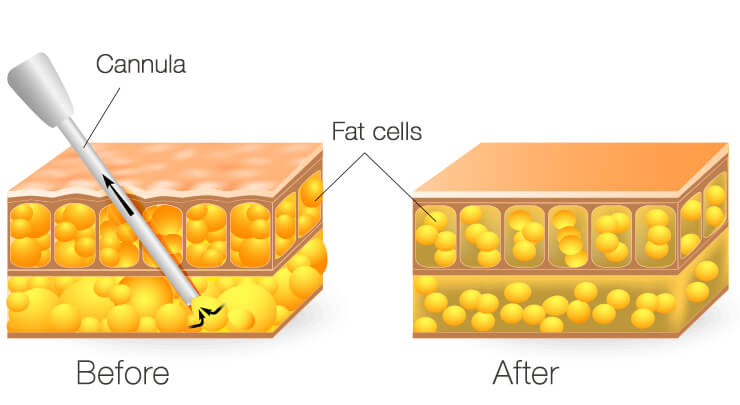 The diagram on the left shows how your fat cells are removed with a liposuction cannula. The diagram on the right shows the decrease in the number of fat cells after treatment
Are you an Ideal Candidate?
Liposuction Surgery is beneficial for both men and women. An ideal candidate for liposuction in Dubai is:
A person within 30% of their ideal weight who have firm, elastic skin, and good muscle tone.
For a person who could not attain a perfect body shape by exercise and diet alone, liposuction surgery may be right for you.
People who do not have any life-threatening disease or any medical condition that can impair the surgery healing.
Different Types of Liposuction Procedures in Dubai
i. Tumescent liposuction (fluid injection)
Tumescent or fluid injection is the most common type of liposuction procedure in Dubai. The surgeon will inject a sterile fluid into the targeted areas before the fat is removed. The fluid is a mixture of local anesthesia, an "epinephrine" drug that contracts with the blood vessels, and an intravenous salt solution. The surgeon then makes a small incision in the targeted region and inserts the tube called a cannula and then the fluid is suctioned out along with the fat. This procedure is done under general anesthesia and is done in an outpatient environment.
ii. Ultrasound-Assisted Liposuction
Ultrasonic liposuction is a type of fat loss procedure that liquefies fat cells before their removal. This is done with the guidance of an ultrasound combined with ultrasonic waves to target fat cells. This procedure is widely used for removing stubborn or fiber-filled areas of the body such as the upper back or enlarged male breast tissue.
iii. Laser-assisted liposuction (LAL) 
The laser-assisted procedure uses high-intensity laser light to liquefy fat with the cells and then extract it. During the procedure the surgeon makes minor incisions into the targeted areas, laser fibers are implanted and fats are emulsified. This procedure is preferred for confined areas such as the chin, jowls, and face. The main advantage of this procedure is that it stimulates the development of protein collagen that helps in maintaining the skin structure.
iv. Power-Assisted Liposuction
The treatment uses a specialized cannula that vibrates easily to break down fat tissues. The circular action of the power-assisted cannula allows the surgeon to collect more fat from the target area with less manual labor, allowing the fat to be extracted with great precision.
Liposuction in Dubai
Dubai's main advantage is the high number of internationally accredited hospitals and clinics in specialties like cosmetic, dermatology, and ophthalmic treatments. Dubai has many other advantages that make it an ideal destination for medical tourism.
Internationally accredited medical facilities using the latest technologies.
Highly qualified Physicians/Surgeons and hospital support staff.
Significant cost savings compared to domestic private healthcare.
No Wait Lists.
Fluent English-speaking staff.
Can easily be combined with a holiday and business trip.
What is the cost of liposuction in Dubai?
The cost of liposuction in Dubai depends on various factors such as:
Treatment procedure
Technology used
Severity
Location
Pre and Post care
Services included
| | | |
| --- | --- | --- |
| Procedure | Hospital Stay | Treatment Cost(USD) |
| Liposuction (Whole Body) | 2-3 Days | 6500 |
| Liposuction (Trunk/Limb/Face) | 1-2 Days | 3250 |
| Body Jet Liposuction | Day-care | 6800 |
| Double Chin Liposuction | Day-care | 2750 |
The cost of liposuction in Dubai ranges from USD 2200 to USD 6800 depending on the technology used, the area you want to fix, the toning needed, and the surgeon's skills